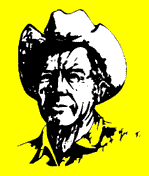 ---
Private Treaty Sales
• The following animals are for sale private treaty.
• Click on picture to view larger photos.
• Click here to view bull videos.
• Click on Reg. No. to view complete up to date information and full pedigree on each registered animal from the American Angus Association.
• Click here to view a full list of bull pedigrees.
• Contact us for further details and pricing information.
The following bulls are for sale private treaty. They are priced $2250 - $3500, please call for individual pricing. They are true moderate frame, maternal bulls that thrive in grass and forage environments. They are bred to produce moderate frame females that will maintain their flesh in harsh environments without the need of supplemental grain. These bulls are semen tested and have passed a breeding soundness exam. They are hard, high libido bulls that will not fall apart when you put them out with your cows. They are guarenteed for the first breeding season.
Picture
Brand
Birth
Sire
Dam
Birth
Birth
Weaning
Yearling
Milk
$EN
Comment
Registration
Weight
Tattoo
Weight
EPD
EPD
EPD
EPD
No.
Bulls
838
4/16/2018
Missing Link
253
79
-0.2
+ 33
+ 56
+ 20
15
low birth, big scrotal
Video
19421220
886
4/9/2018
Jauer 203
5074
80
+ 1.4
+ 29
+ 51
+ 18
16
moderate frame,
good depth
Video
19407931
8011
4/26/2018
Jauer 4057
4040
88
+ 2.4
+ 36
+ 63
+ 17
15
high capacity,
moderate frame
Video
19407898
8058
6/2/2018
Jauer 522
5207
87
+ 1.8
+ 47
+ 87
+ 22
8
medium frame
Video
19456788
8145
4/20/2018
Jauer 596
0342
88
+ 2.2
+ 34
+ 52
+ 20
16
moderate frame,
good depth
Video
19456828
8166
5/3/2018
Productive
3202
87
+ 3.8
+ 36
+ 64
+ 17
16
moderate frame
Video
19407911
8340
4/14/2018
Jauer 2512
401
65
+ 1.4
+ 48
+ 69
+ 18
big scrotal,
projected EPDs
Simm/Angus
8345
4/30/2018
Jauer 2512
5202
93
+ 1.9
+ 55
+ 77
+ 19
larger frame,
growthy bull
Video
Simm/Angus
ASA#3668336
8349
5/11/2018
Jauer 2512
4081
90
+ 1.2
+ 46
+ 67
+ 18
deep, thick,
projected EPDs
Video
Simm/Angus
8439
9/28/2018
Jauer 4057
8128
83
+1.2
+ 28
+ 47
+ 20
16
good depth,
Video
19692236
8714
4/16/2018
Productive
5706
88
+ 1.2
+ 44
+ 75
+ 15
moderate frame,
Sire's EPDs
Red Angus
8722
5/10/2018
Jauer 2512
1706
80
-0.5
+ 40
+ 57
+ 20
projected EPDs
Simm/Red Angus
8852
6/13/2018
Jauer 2512
3703
95
-2.5
+ 57
+ 85
+ 23
big scrotal, easy fleshing,
projected EPDs
Video
Simm/Red Angus
715
4/30/17
Hobart
7181
105
+ 4.2
+ 50
+ 77
+ 11
15
mature bull
19178408
7174
5/9/17
Jauer 522
3017
86
+ 2.1
+ 42
+ 86
+ 20
10
mature bull
19117889
7744
5/14/17
Jauer 283
4709
93
+ 4.0
+ 42
+ 76
+ 19
mature bull
Red Angus
| | | | | | | | | | | |
| --- | --- | --- | --- | --- | --- | --- | --- | --- | --- | --- |
| | Fall Cow | | | | | Fall Calf | | | | |
| Picture | Brand | Birth Date | Sire | Dam | Reg. No. | Sex | BWT | BDT | Sire | Comment |
| Fall Pairs | | | | | | | | | | |
| | | | Fall pairs will be available later this fall | | | | | | | |
Picture
Brand
Birth
Sire
Dam
Birth
Birth
Weaning
Yearling
Milk
$EN
Comment
Registration
Weight
Tattoo
Weight
EPD
EPD
EPD
EPD
No.
Spring Cows/Pairs
Please check back
Spring bred cows will be available next year
Picture
Brand
Birth
Sire
Dam
Birth
Birth
Weaning
Yearling
Milk
$EN
Comment
Registration
Weight
Tattoo
Weight
EPD
EPD
EPD
EPD
No.
Donor Cows
Please check back
---
| Home | About Us |
| Our Philosophy | Contact Us |
| 2020 Sale Results |
Follow us on Facebook

Jauer Dependable Genetics
www.jauerangus.com
Hinton, Iowa
(712) 253-8710 | (712) 253-0125